My Work
---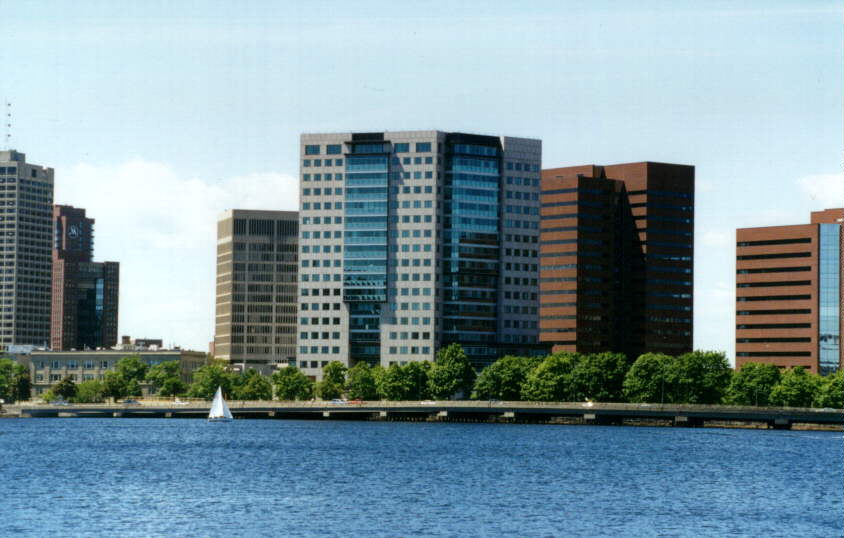 I work as a Senior Analyst in the Wellington, New Zealand offices of Putnam, Hayes & Bartlett - Asia Pacific Ltd. We are an economics and management consulting firm. Above is a picture of our corporate headquarters in Cambridge, MA (USA) taken from a boat in the Charles River.
In my more than three years at PHB, I have specialized in both the automobile and electricity industries. My automobile industry work has involved some of the largest and smallest automobile manufacturers in Europe, Asia and the US. In electricity, I have worked on a broad array of projects in regulation, stranded cost recovery and pricing for clients in the US and Asia. I have also worked on projects ranging from intellectual property to transfer pricing to financial valuation.
If you are interested in Economics or finance, you can visit the sites below or...

...Check out a live view of Boston from a camera mounted on the roof of a building next door to our corporate headquarters.

---
Economics
Bureau of Labor Statistics - CPI data

WebEc WWW Resources in Economics - Comprehensive directory of econ sites

EPRI Utility Database - Electric Power Research Institute

FedWorld Home Page - Starting point for all US Govt. info
---
Finance
The American Stock Exchange - Quotes and PR information

Briefing - Market numbers and analysis

Currency Converter - Convert virtually any currency

Dunn & Bradstreet - Company information (fee based)

Financial Resources Guide - Broad up-to-date listing of finance-related resources

Findex - Searchable database of international financial institutions

Investor's Edge - Market reports and news

SEC EDGAR Database - SEC filings (10K, 10Q, etc.)

Dow Jones Research - Business news

NETworth by GALT Technologies - Miscellaneous financial information

Charles Schwab - Brokerage services

Quote.Com - Stock quotes
---
Misc. Business Related
---
[BACK]
---
Copyright © 1997, Alastair M. Bor. rev 9.23.97
---